FOAM FILTER RO83
FOAM FILTER RO83
Wash the foam filter monthly or when suction is no longer more satisfactory.
The RS-2230000469 filter is suitable for vacuum cleaners whose manufacturing date starts February 1, 2017 week 5*.
If your vacuum cleaner has a manufacturing date prior to February 1, 2017 week 5, order the filter RS-2230000469 + case RS-2230000470 kit.

* Your unit's manufacturing date is located under your product in the form of a 4 digit code.
The two first digits correspond to the week and the last two to the year.
E.g.: "0517" corresponds to week 05 of the year 2017 (see attached label).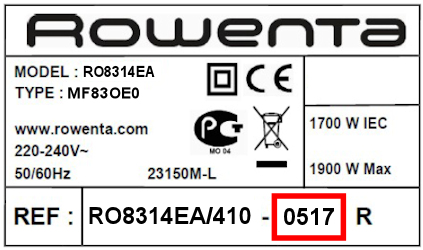 Designed for bagless vacuum:
- Silence Force Multicyclonic
This item is compatible with
2 product(s)
Check compatibility
Reference : RS-2230000469
Designed for 2 product(s)
To make sure that this item is compatible with your device, please enter your product reference in the search toolbar below or simply check the following table.
| Products | References | Categories |
| --- | --- | --- |
| Silence Force Multi-Cyclonic | RO8376UA | Floor care |
| Silence Force Multi-Cyclonic | RO8386UA | Floor care |