The best care FOR YOUR LAUNDRY
Several studies show, when it comes to household goods, people look for innovation. Appliances which facilitate their chores whilst giving professional results.
This is even more the case when caring for your laundry, as if you have to iron, you might as well do a perfect job.
DID YOU KNOW?
The Rowenta brand is born in 1909 in Germany
Rowenta engineers are constantly creating and improving quality with their expertise and attention to details to make each and every models meet our high expectations.
A 100 years of experience, research and determination lead us to excellence. This what makes a Rowenta iron.
MADE IN ROWENTA
To offer everyone an effective solution for laundry care, Rowenta has concentrated on several aspects of its products.
First of all, the iron 's soleplate. By ensuring a perfect glide, it gives a rapid and impeccable result whilst also protecting the fabric. This is notably the case with the unique Rowenta Micro Steam soleplate. The concentrated steam at the front of the iron will humidify the fabric whereas the heat at the back of the plate will dry the material, vastly reducing the time it takes to iron. As a result, your garments are more quickly and flawlessly ironed. As for the precision tip, it slides with ease into the smallest of darts and folds.
Where ironing is concerned, the power of steam is synonymous with performance. With regard to irons, the output can reach 50g/minute for a perfect result - precisely what the Rowenta Steam Force model offers. It also has a pressing function of 200 g/minute, doing away with accidental creases and removing the fear of ironing thick fabric.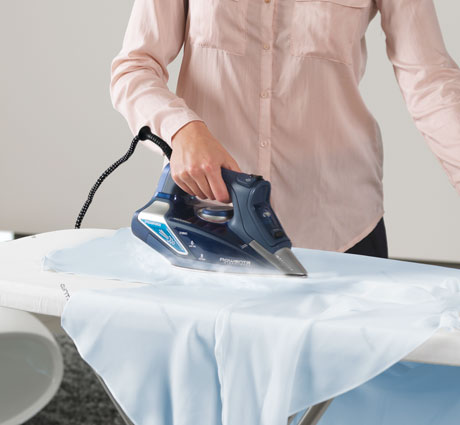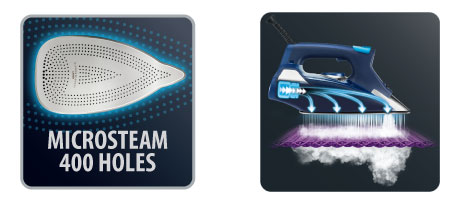 Not all fabrics require the same attention: cotton and linen, for example, need a stronger steam output to relax the fibers, silk on the other hand does not need steam. Therefore, it is possible to adjust the power of the steam jet to the type of material you wish to iron with the Rowenta Steamcare iron.
Rowenta Steam Care provides great ironing results on all type of garments without any settings required. Zero risk of burning clothes, even the most delicate garments*. You can therefore iron fragile, synthetic fabric or silk without the danger of damaging the clothing and without being an ironing expert!
These ProductsMAY INTEREST YOU