Fresh 180° tower fan for a fresh & cool ambiance
The comfort of a house isn't just about the décor or the layout but also the atmosphere. This includes having an optimal and cool temperature during those warm spring and summer months.
180° oscillation for full room coverage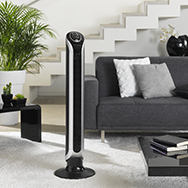 Enjoy a refreshing cooling sensation that is evenly diffused thoughout your entire room
The Rowenta Fresh 180° tower fan features oscillation technology, allowing a refreshing cooling sensation to be diffused though your entire room. Its powerful airflow is supported by three adjustable air speeds, for a perfectly adapted cooling effect, while its high, slim design elegantly fits into any space and interior.
Built for every day home use
The large base ensures excellent stability, while a high front grid allows for increased air diffusion.
Rounding it all off are an 8h digital timer for comfort of use, a removable rear grid for easy maintenance, and automatic electronic speed and auto shut-off function after 12h for total convenience.
Rowenta By Design
- Extra-large coverage with 180° oscillation
- Auto Function that adjusts speed according to the room temperature.
- Cord Rewind allows cord to be stored inside the base, for easy storage and improved safety.
- Ultra slim & compact remote control with built-in storage.
- 3 air speed functions with air speeds up to 350m3/h.
- Easy Clean Function with safe opening for convenient cleaning.
- Digital Timer for up to 8 hours of comfortable use. - Choose between four settings - 1h, 2h, 4h, and 8h
- Eco Auto Off automatically turns off fan after 12 hours to save money and energy.
- Temperature indicator on a integrated screen.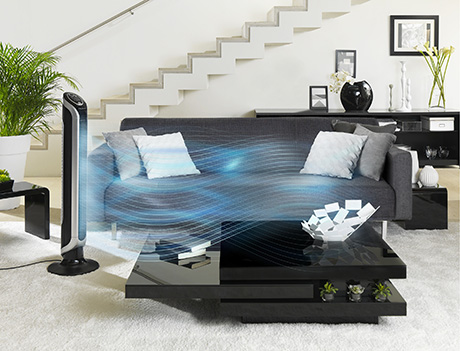 * Study "Usage & Attitude", 896 people, Brazil, November 2011.